My Auto-biography
I suppose that I inherited my love of automobiles. My grandfather had owned a limousine business in New York in the 20's. Among his cars was a Lancia Limo with an engine turned alloy body that had originally belonged to Mayor Jimmy Walker, and then the Great Depression swept it all away.

Thereafter I was fascinated by sports cars, primarily MGs but Jags and Healys too. I still have vivid memories of a very early E-type Jag on the next block and there was a BMW 507 that used to be frequently parked across the street from the local movie theater, and a Mercedes Gullwing that appeared at a high school track meet. I almost missed

my event I was so busy looking at that car. Somewhere I still have my dog-eared copy of 'the Golden Books Guide to Sports Cars' and then there was 'The Red Car' with it's tale of an MGTC. When I turned seventeen I found a '51 TD and convinced my father that it would be the perfect commuter car for me to drive to high school. We looked at it, negotiated a price and left a small deposit then returned the next day to find it gone - sold to someone else for a little bit more. It would be 6 years before I would finally buy my first MG while in Grad school, an Iris Blue MGA 1600 Roadster that I still own, seen at a Gymkana in 1975, after I repainted it and converted it to wire wheels. The MGA was joined by a '46 MGTC two years later, seen below after a three

and a half year rebuild. I had painted the MGA red and repaired some rust in the sills but the TC was my first 'total' restoration. While I was still working on the TC I acquired my first Twin Cam, a RHD roadster in pieces. A second Twin Cam, a Devin bodied coupe that had been raced and rolled followed along with a third that included a spare NOS Twin Cam engine in a crate. That last deal was all of $500. No one had any interest in Twin Cams then.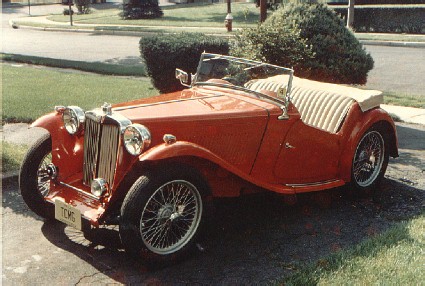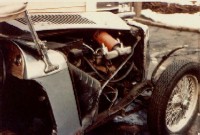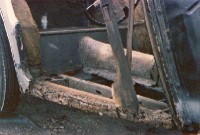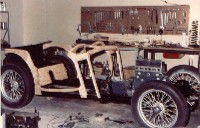 Click on the pictures below if you would like to see a larger image.

Two years of employment had done a lot to expand my collection but before the TC was finished I decided to attend Dental School and become a full time student again. While in school, I parlayed a $50 Cadillac that I fixed and sold for a few hundred dollars into an MGB that I fixed and sold to buy a late model Midget that supposedly needed a clutch and had a blown engine. Turned out all it needed was a clutch slave rebuild, a headgasket and some minor body damage repaired. I made a large enough profit on that to buy a '64 Jag XKE coupe that became my daily driver for two years. I did my second 'ground up' restoration on a '55 TF 1500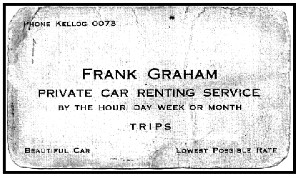 My father always appreciated fine automobiles and always bought cars that had style. Some of my earliest memories as a child are of his '53 Studebaker Champion coupe, the Raymond Lowey design still looks good today. My first MG experience came at age 7 when a friend's father bought a second hand TF1500 and would take us for rides around the neighborhood with the windshield down....I was hooked.